HOMES FOR SALE IN WINTERSET
Scroll to the bottom to see all homes for sale in Winterset (listings updated directly from the MLS every 15 minutes) or read on to learn more about living in this picturesque community. See a home you like? Give me a call or text at 515-229-5642 for a showing of any property today!
Winterset, Iowa is a fast-growing, family-friendly and economically strong community of 5,309 residents that offers some of the best real estate opportunities in the Midwest. The city of Winterset is located at the intersection of Highway 92 and Highway 169 and is just 20 minutes south of Adel and 25 miles from all the amenities of West Des Moines. Homes for sale in West Des Moines and homes for sale in Adel are some of the most sought after in Iowa, and as they expand the popularity and growth of Winterset will only increase. Residents of Winterset work in a variety of industries, including agriculture, manufacturing, healthcare, retail, and education. Some of the largest employers in the area include John Deere, Winterset Community School District, Madison County Health Care System, and numerous other local businesses. The median income in Winterset is $67,328, well over the Iowa average of $61,691. Even with the increased income, the median price of houses for sale in Winterset, Iowa is still just $235,480.
Winterset was originally platted during a streak of cool weather in the summer of 1849. The name was originally supposed to be "Summerset", but the unseasonably frigid weather ultimately made the commissioners reverse this to "Winterset". This is also the area world famous for being the location of the Bridges of Madison County! The "Covered Bridge Capital of Iowa" was once home to 19 covered bridges that were built in the late 19th century. Today, 6 bridges remain with 5 of them being registered in the National Register of Historic Places. Winterset also brought us "The Duke!" That's right! Western film star and American icon John Wayne was born here on May 26, 1907 in a simple wood-framed, 4 bedroom house. The city embraces the star fully and currently has a very popular tourist attraction in the John Wayne Birthplace Museum.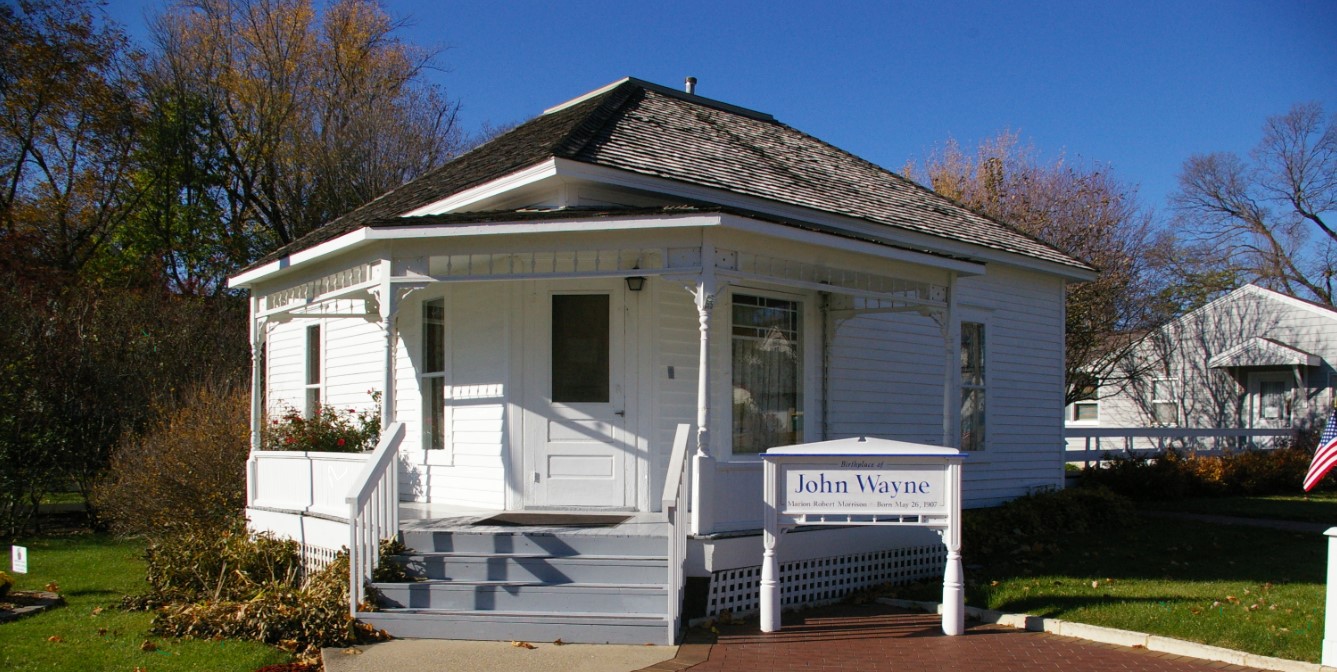 Houses for sale in Winterset are also growing in popularity due to the extremely low crime rate and the highly ranked Winterset Community School District. Winterset public schools have an average math proficiency score of 77% and a reading proficiency score of 70%, which are both much higher than the state averages. Featuring 4 schools and nearly 1,800 students, the Huskies also have one of the best theatre and athletic programs in Iowa. With it's beautiful rural setting and easy access to hunting, fishing, hiking and other outdoor activities there are often acreages for sale near Winterset available on the market. If not, I often know of, or can find, properties coming up that are not listed on the MLS yet. Still far enough away from the city noise to feel like the country, but close enough you can hop in your car and get to all the big city amenities; buying real estate in Winterset is quickly becoming a highly sought after investment.
WANT TO DISCUSS MORE ABOUT WINTERSET, IA HOMES FOR SALE?
Call or text me today at 515-229-5642 for a showing, to set up a custom search with new homes for sale in Winterset delivered straight to your inbox, or with any real estate questions at all!
ALL HOMES FOR SALE IN WINTERSET BELOW OR CLICK "SEARCH MORE" TO SEARCH THE MOST CURRENT MLS LISTINGS IN ALL AREAS
Enter city, zip, neighborhood, address…