HOMES FOR SALE IN DES MOINES

Simply scroll to the bottom to check out the most up-to-date listings of homes for sale in Des Moines available on the internet (updated every 15 minutes directly from the MLS!) or read on to learn more about living in this fun and exciting community! See a home you like? Give me a call or text at 515-229-5642 for a showing of any property today!
As a local Realtor, showing buyers Des Moines, Iowa homes for sale is always one of my favorite things to do. Des Moines (DSM) offers housing for every type of person and lifestyle. From brick townhomes on the river to rustic apartments in the Historic East Village, Downtown DSM features safe, convenient living spaces for all.
Want to live downtown? You can grab dinner next door to your loft on Court Avenue and commute to work the next morning via the skywalks connected to your home. Or take a jaunt through the John and Mary Pappajohn Sculpture Park not far from your place in Sherman Hill. If you want to be a little further from the action but still have it within view, homes for sale in Pleasant Hill, Iowa are a great choice!
Des Moines also offers many events and businesses to promote community, art and growth for its 213,545 residents. The Downtown Farmers Market, located in the Historic Court Avenue district has more than 300 vendors showcasing homemade and homegrown baked goods, produce, art, music and street performers every Saturday from the beginning of May to the end of October. Every year, Des Moines is host to the Des Moines Arts Festival, curating artists from all over the world to share their talent as well as many activities for all ages. If that's not enough, did you know that the Des Moines Art Center is always free to attend for all ages?

Downtown is hopping with several local restaurants & breweries including Peace Tree Brewery, home of my personal favorite, the Blonde Fatale Belgian craft beer, or head to the Iowa Tap Room, where the chicken fried steak will melt in your mouth! Step next door and have dessert at Molly's Cupcakes or brunch across the street at the Breakfast Club. Up the hill in the East Village you will find the Iowa State Historical Building as well as the Iowa State Capitol, where you can dive into the history and culture of this great state at your leisure.
Want to take a break from downtown? Some of the fastest growing suburbs in the nation are in the Des Moines real estate market, with homes for sale in West Des Moines and homes for sale in Ankeny, Iowa some of the most sought-after in the entire nation! Whatever you're looking for, you can find your home in Downtown DSM.
Top Neighborhoods (according to Niche magazine) to buy a home in Des Moines:
Greenwood Historic
Sherman Hill
As a Realtor who has sold houses throughout Des Moines, I can tell you there are hidden gems everywhere. From Drake, to North and South of Grand homes, to Downtown Des Moines lofts for sale, there is a place for everyone in this beautifully diverse city.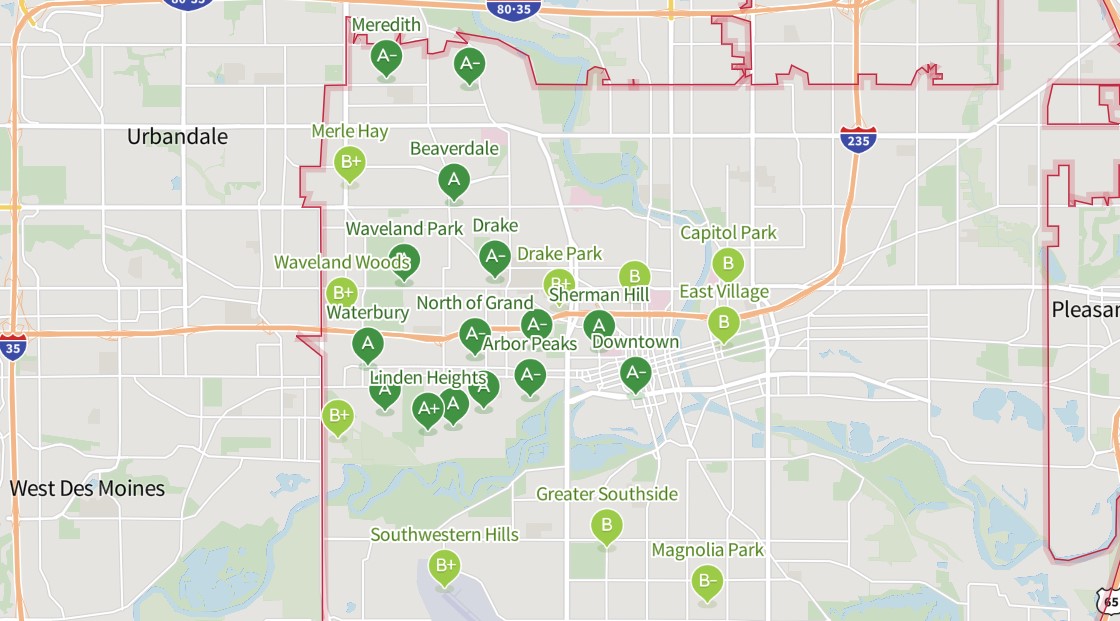 Des Moines is not only a great place to live, but it's also a great place to work! The city is home to a diverse and thriving business community, with industries ranging from insurance and finance to healthcare and technology. In fact, Des Moines has been consistently ranked as one of the best places for business and careers by Forbes magazine.
One of the biggest employers in the city is the insurance industry, with companies such as Principal Financial Group, Nationwide Insurance, and EMC Insurance having a significant presence in the downtown area. These companies offer a variety of job opportunities, from entry-level positions to executive roles, pay very well and are always looking for talented individuals to join their teams.
In addition to insurance, Des Moines also has a thriving technology industry, with companies like Dwolla, Workiva, and Hy-Vee, Inc. providing job opportunities for tech-savvy individuals. The city is also home to a number of healthcare facilities, including MercyOne and UnityPoint Health, which offer a range of job opportunities in the medical field.
Des Moines is known for its low cost of living, making it an attractive destination for individuals and families looking to settle down and build their careers. With a median home value of $149,700 versus the national average of $244,900, Des Moines offers quite the bang for your buck! The city also offers a high quality of life, with plenty of cultural and recreational activities available outside of work hours.
Whether you're just starting your career or looking to make a change, Des Moines is a great place to work and grow professionally. With a thriving business community, low cost of living, and high quality of life, it's no wonder why so many people are choosing to make Des Moines their home.
With one of the lowest crime rates in the nation and home to a top tier school system, Des Moines is quickly becoming one of the fastest growing and most sought after cities to live in the nation. Ready to check out some of the available Des Moines real estate? Use the most up to date, MLS powered search below to check out homes for sale in the Des Moines area.
WANT TO DISCUSS MORE ABOUT DES MOINES HOMES FOR SALE?

Call or text my personal cell phone today at 515-229-5642 or joshdicks@iowarealty.com if:

you have any questions
you would like me to set you up with a real time search that will send you alerts to your inbox anytime something that meets your criteria hits the market
you want to go look at any home for sale in Des Moines you see below
you want guidance on financing options
As the expert local Des Moines Realtor, I'm here and happy to help with anything, at any time!
Enter city, zip, neighborhood, address…