HOMES FOR SALE IN BEAVERDALE, IOWA
Scroll to the bottom to see the most up-to-date listings of homes for sale in Beaverdale available (updated directly from the MLS every 15 minutes) or read on to learn more about living in this vibrant Des Moines neighborhood. See a home you like? Give me a call or text at 515-229-5642 for a showing of any property today!
Beaverdale is a charming neighborhood of 12,052 residents and is well-known locally for its brick homes and continues to attract families due to its traditional style homes, tree-lined streets, and convenient proximity to shopping, work, and parks. One of the key factors that draws new residents to the area is the active community support through neighborhood associations, which have led to significant improvements.
Beaverdale was once considered the rural, western edge of Des Moines, with large land tracts dedicated to fruit orchards and truck farms. The Fort Dodge Stage Road, renamed Beaver Avenue in 1903, crossed the area and was later improved with brick paving in 1917. The name "Beaverdale" was formally adopted by residents from the area after the adjacent suburban village of Urbandale was given its name.
If you're looking to buy a house in the Des Moines area, Beaverdale is a fantastic neighborhood to consider. As the largest of the fifty-one recognized neighborhoods in the city, Beaverdale boasts a unique charm and character that attracts many homebuyers.
Located in the northwestern part of Des Moines, Beaverdale is bordered by Meredith Drive and Forest Avenues on the north and south, and from 30th to 48th Place on the east and west. The neighborhood encompasses 143 blocks and borders homes for sale in Urbandale, as well as nearby South of Grand homes for sale.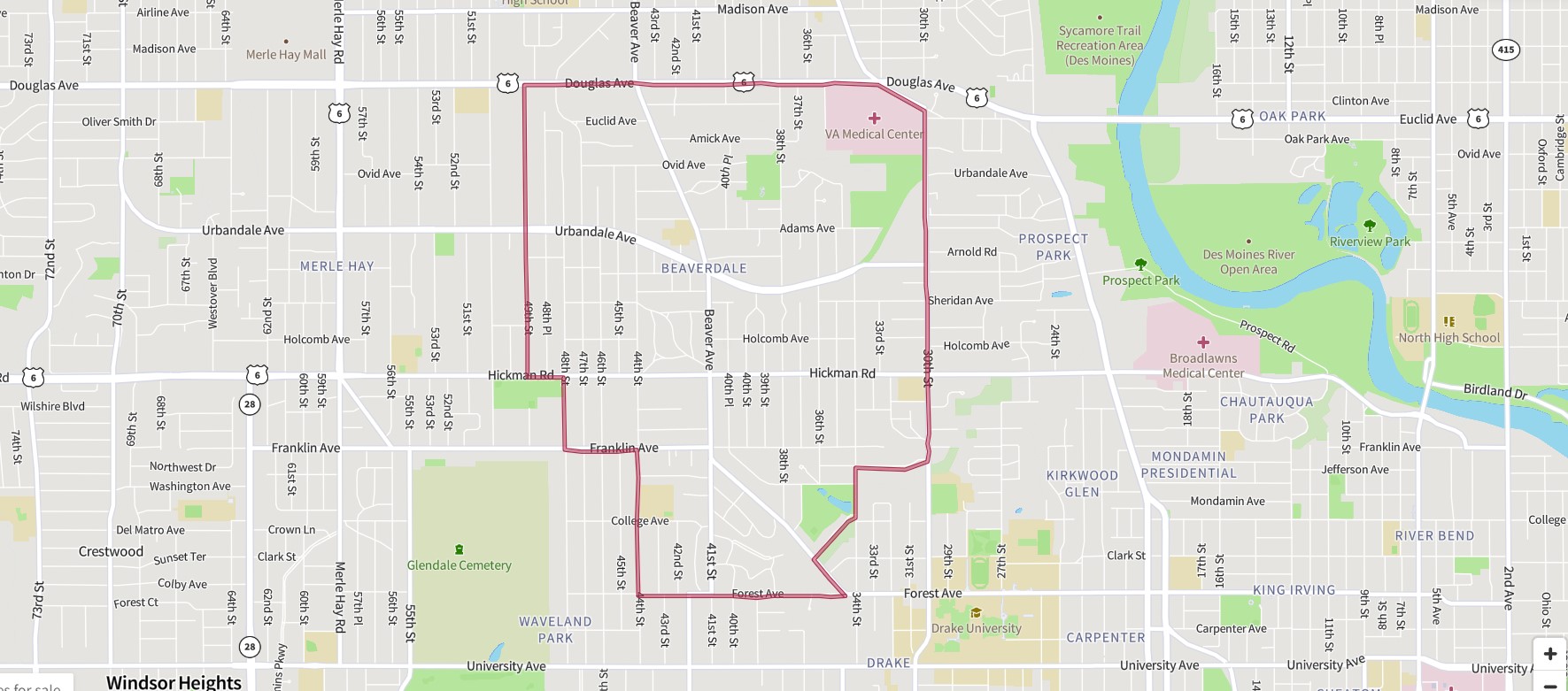 One of the standout features of Beaverdale is its ample parkland. The neighborhood has over 50 acres of public parkland that offers a variety of recreational activities. The three City parks located in this area are Ashby, Beaverdale, and Witmer.
Ashby Park is located at 38th Street and Davisson Avenue in the north central part of the neighborhood. This park supports a variety of sports activities, including basketball, volleyball, and tennis courts, as well as a baseball diamond. For young children, play equipment and a wading pool are available. A covered shelter is open year-round for picnics or parties.
Beaverdale Park is a community-designated park located in the northeast corner of the neighborhood at 34th Street and Adams Avenue. This 20-acre passive park is perfect for those who want to relax or enjoy a picnic with family and friends. The park also has accommodations for various types of ball fields and picnic facilities.
Witmer Park is a 22-acre recreation area located at 34th Street and Witmer Parkway in the southeast section of the neighborhood. The park offers ball diamonds, basketball, horseshoe, and tennis courts. There is also a wading pool for small children.
Just outside the neighborhood is Tower Park, an 8-acre park site adjacent to the southwest corner of the neighborhood, at 50th Street and Hickman Road. This area is near some of the nicest luxury homes for sale in Des Moines and well as gorgeous homes for sale in Waterbury, Des Moines' famously chic area.
In addition to its parkland, Beaverdale is home to three public elementary schools and one private school. Monroe, Perkins, and Hillis Elementary schools serve the majority of elementary age children in the neighborhood. There are no upper-level schools located within the immediate neighborhood. Students from this area attend Callanan, Harding, and Meredith Middle Schools and Hoover or Roosevelt High Schools. Drawing its student population from all areas of Des Moines, the parochial school, Holy Trinity, offers classes from preschool 3s through eighth grade.
Another notable feature of Beaverdale is the U.S. Veterans Administration hospital campus located in the northeast corner of the neighborhood. When included with Beaverdale Park, these two public-owned facilities dominate the northeast quadrant of the neighborhood.
When it comes to living and working in Beaverdale, the neighborhood has a lot to offer. Its tree-lined streets and unique homes give it a small-town feel within the city limits. Beaverdale also has a thriving business district with locally-owned shops, restaurants, and bars that cater to residents and visitors alike.
If you're considering buying a house in Beaverdale, it's worth noting that home prices in the neighborhood are generally affordable compared to other homes for sale in Des Moines. The median home value in Beaverdale is around $190,000, and there are a variety of housing options available, including single-family homes, townhouses, and apartments.
Overall, Beaverdale is a great choice for those looking for a charming and friendly neighborhood in Des Moines. Its ample parkland, quality schools, and vibrant business district make it a fantastic place to call home.
WANT TO DISCUSS MORE ABOUT HOMES FOR SALE IN BEAVERDALE?
Call or text me at 515-229-5642 for a showing of any home today, or fill out the quick form at the bottom of this page. You can also email me at joshdicks@iowarealty.com to set up a custom search with new homes for sale in Beaverdale, Iowa delivered straight to your inbox, to go over financing options or with any real estate questions at all!
CURRENT BEAVERDALE LISTINGS (AND MLS SEARCH):
Enter city, zip, neighborhood, address…
Please remove some of the selected filters.